RealClimate: Some new CMIP6 MSU comparisons

We add some of the CMIP6 models to the updateable MSU comparisons.
After my annual update, I was pointed to some MSU-related diagnostics for many of the CMIP6 models (24 of them at least) from Po-Chedley et al. (2022) courtesy of Ben Santer. These are slightly different to what we have shown for CMIP5 in that the diagnostic is the tropical corrected-TMT (following Fu et al., 2004) which is a better representation of the mid-troposphere than the classic TMT diagnostic through an adjustment using the lower stratosphere record (i.e.

).
This data for the historical and SSP3-70 scenario (135 simulations) is for the region 20ºS-20ºN. This allows us to provide an updateable comparison to the equivalent satellite temperature diagnostics from RSS v4, UAH v6 and the new NOAA STAR v5. As with the earlier CMIP6 comparisons, I'll plot the observational time series against both the full ensemble and the ensemble screened by the transient climate response (TCR) as we recommended in Hausfather et al (2022), and plot the time series and trend histogram.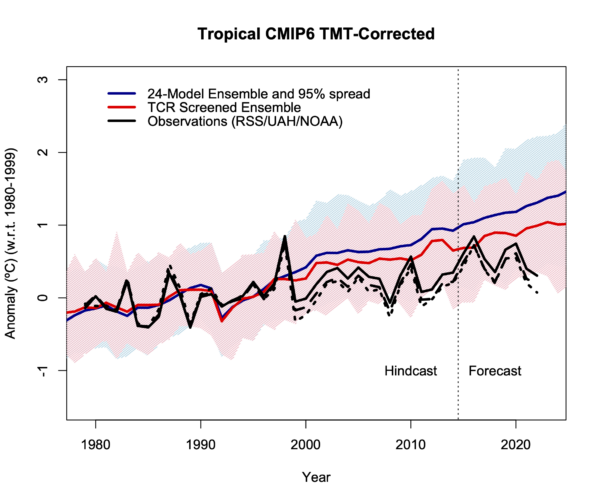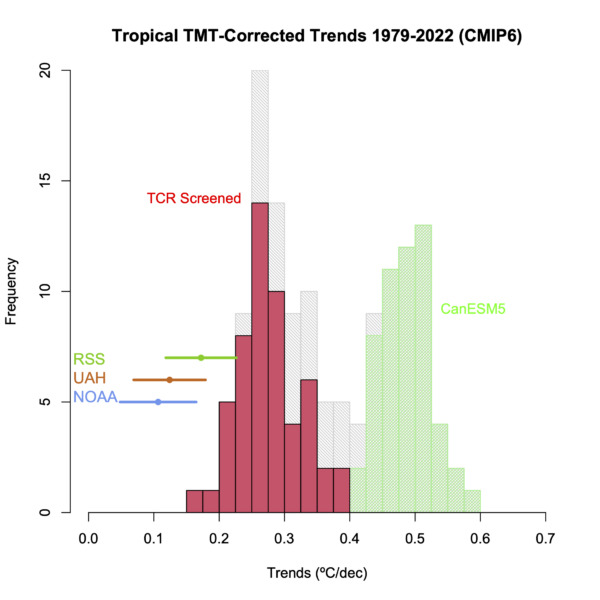 Two things are…