FS KKR Capital: Buy For Its Large Discount To NAV And High Yield (NYSE:FSK)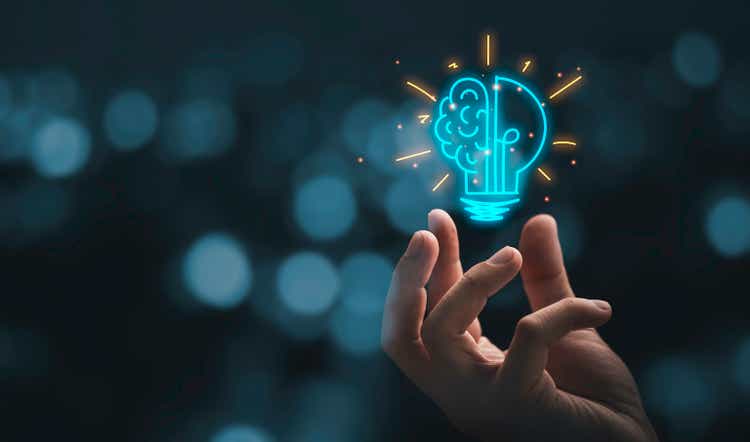 FS KKR Capital Corp. (NYSE:FSK) is trading at a 26% discount to book value and currently pays a 12.9% dividend yield that is covered by the company's adjusted net investment income.
Even though the discount to net asset value was higher in September than it is now, I believe the large discount reflects a high margin of safety for passive income investors, which could lead to double-digit stock returns for shareholders in addition to the 12.9% dividend yield.
Portfolio Composition
In comparison to some of its BDC peers, FS KKR does not have the greatest exposure to First Lien Senior Secured Loans in its portfolio.
Business development companies with higher First Lien percentages, such as Blackstone Secured Lending (BXSL) or Oaktree Specialty Lending Corporation (OCSL), offer passive income investors higher overall portfolio quality, which translates into lower loan default risks.
As of September 30, 2022, FS KKR had invested 61.9% of its capital in First Lien Senior Secured Loans, 7.9% in Second Lien Senior Secured Loans, and the remainder in subordinated debt, asset backed finance, Credit Opportunities Partners, and Preferred Equity.
As of the end of the third quarter, FS KKR's total portfolio value was $15.8 billion, with 195 portfolio companies.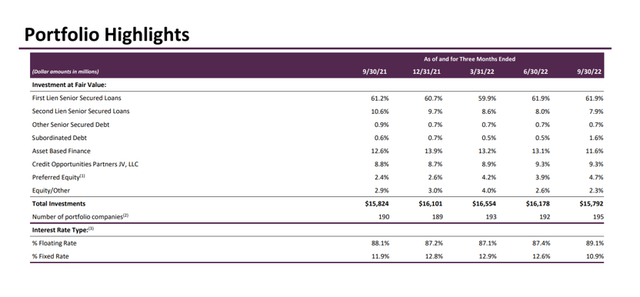 Only 49% of the BDC's third-quarter investments went to the safest debt form, First Lien Senior Secured Loans, while 20% went to subordinated debt. This type of debt offers higher yields to debt investors, but also higher investment risk because some borrowers may not repay the loan in full.
Some higher-quality BDCs have changed their portfolio compositions in favor of safer First Lien investments in the last year, owing to concerns about an impending recession in 2023.
FS KKR does not feel the need to position its portfolio more safely (less than half of 3Q-22 investments have been made in First Liens), indicating that portfolio and dividend coverage risks are higher than average.

FS KKR, like most business development firms, prioritizes investments in sectors that are less cyclical and provide more predictability in terms of earnings and cash flow.
FS KKR has a high exposure to the software and services, capital goods, health care, and insurance sectors, which promise lenders less cash flow volatility and, as a result, a higher chance of full loan repayment.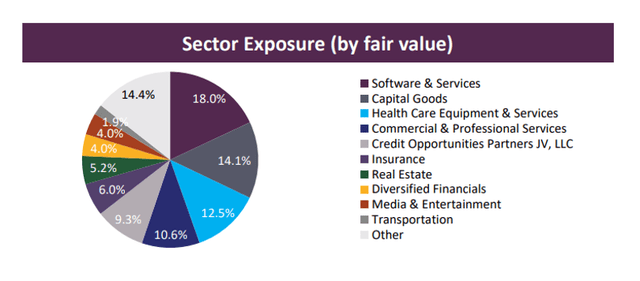 Dividend Coverage
FS KKR earned $2.77 per share in adjusted net investment income over the last four quarters while paying out $2.66 per share, or $0.67 per share on average. As a result, the dividend pay-out ratio over the last twelve months was 96.0%, indicating that FS KKR fully covered its dividend with adjusted NII.
While there are other business development companies with pay-out ratios less than 96%, I believe FS KKR's dividend is sustainable as long as the BDC's debt portfolio quality does not deteriorate.

26% Discount To Book Value
For the past year, FS KKR Capital has been selling at a discount to net asset value, and the current discount is not even the largest it has ever been. The BDC's discount to net asset value widened to 36% during the September selloff, but even though it has narrowed recently, it is still large enough to provide passive income investors with a high margin of safety, in my opinion.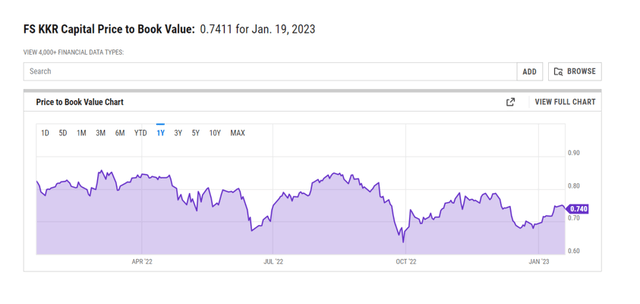 Why FS KKR Could See A Higher NAV Discount
There are two main reasons why FS KKR's valuation could fall in the future:
A U.S. recession could cause capital providers to withdraw from debt investments. Furthermore, an increase in loan defaults in a recessionary environment may result in an increase in non-accruals and a deterioration of the BDC's credit quality, causing investors to apply larger fear discounts to account for the possibility of additional loan losses.
My Conclusion
The 26% discount on net asset value is a strong selling point for FS KKR, even though the BDC is, all things considered, of average quality.
The discount to net asset value is large enough to reflect a reasonable margin of safety, and if the gap between market price and net asset value closes, passive income investors could earn double-digit stock returns on top of the 12.9% dividend yield.
The dividend was still covered by adjusted net investment income as of September 30, 2022, and as long as the BDC's portfolio quality does not deteriorate, I believe FS KKR can continue to pay out dividends in the future.


Read More: FS KKR Capital: Buy For Its Large Discount To NAV And High Yield (NYSE:FSK)