'The sky might not be falling': Local media buyers bullish despite inflation, interest

Seb Rennie, chief investment officer at Group M Australia and New Zealand, says he is still expecting low to mid-single digit growth.
"The thing that we're watching most keenly is the economic environment, both globally and locally," he says. "Certainly, that would be the major impact of the size of the overall media market next year. Whilst I think next year the market will still grow, that growth will be driven predominantly by digital, and then the extensions of traditional media channels, things like [broadcast video on demand]."
Rennie, Jarrett and Lucy Formosa-Morgan, managing director of Mediabrands investment arm Magna, are all anticipating the recovery of segments that were most affected by the pandemic, specifically cinema and billboard (outdoor) advertising.
"We're forecasting low single-digit growth for next year," says Formosa-Morgan. "It'll be driven by digital – largely – and radio and outdoor haven't got back to pre-COVID levels. We're still envisaging a bit of growth there. But it'll be interesting to see what happens with the global clients whether that changes as we move through the year."
Loading
The buyers say advertisers in the tourism and automotive sectors, which were forced to cut back spending in recent years due to travelling restrictions and supply chain issues respectively, were showing early signs of a return to normal.
"We have seen some categories like travel and entertainment come back, which has been fantastic for the sector," Rennie says. "The good news is that we're starting to see some early signs that the automotive category might start to rebound and that is a fairly large category historically."
Jarrett says there are also sectors that aren't as affected in economic downturns, such as basic consumer goods. "You'll actually see plenty of sectors that still perform well in a more muted economic time," he says.
One of the most unusual characteristics of the current economic climate is that consumer confidence is not correlated to consumer spending. While indexes such as ANZ-Roy Morgan consumer confidence tumble amid surging inflation and interest-rate increases, media buyers aren't seeing a drop in spend.
For example, in October after the Australian dollar fell to its lowest point since early 2020, ANZ-Roy Morgan consumer confidence dropped 2.4 points to 82.2. Yet data from the same month from Australia's Standard Media Index, which tracks the spend of most advertising agencies, is showing growth in a variety of segments.
Loading
"What we've seen in the last 18 months is that consumer confidence has dipped massively, but we haven't seen the same correlation in advertiser spending, or even consumer consumption," Jarrett says. "Instead of being really closely linked, they've actually pulled themselves apart a little bit."
Formosa-Morgan says consumer spending is still going up. "There's always a lag behind interest rates really taking a bit on people's disposable income. We've had seven interest rate hikes now, so you'd expect people to start cutting back."
Australia's advertising market will become more complex in the next 12 months as Netflix builds its advertising tier and Foxtel's entertainment service, Binge, launches its advertising offer. Rennie said the introduction of ads on subscription services should add some "incremental money" to the market, but Jarrett said the impact of this arrival was still a way off.
Spending by typically large contributors to the advertising market – mining, energy and wagering companies – has also come under scrutiny from the public. In the past two weeks, Gina Rinehart's Hancock Prospecting pulled a $15 million sponsorship of the national netball team while new wagering company Betr was put under investigation by Liquor and Gaming NSW over a promotion that may have breached advertising laws. Nationals leader David Littleproud last week urged the federal parliament to consider if there should be a  ban on gambling ads during sports broadcasts, saying more could be done to protect children from exposure to online betting.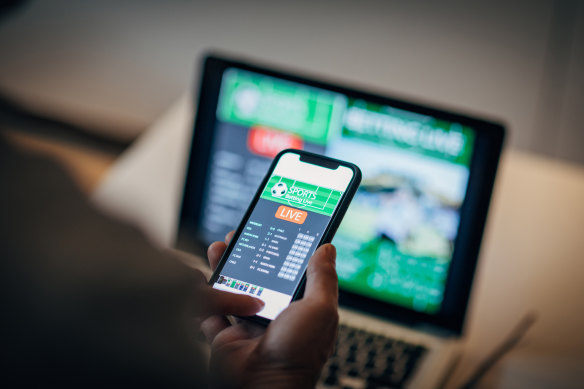 Jarrett says he does not believe the scrutiny or increased regulation will change the investment in advertising in the short-term.
"If they have some additional rules placed on them by governments, such as the seven different rotating quotes… that's not going to stop them from investing in advertising. That's how they drive people to their products," he said.
"I don't see that having an effect in the short term. If the regulatory environment changes over the next decade or two, to the extent that it changed for tobacco…then that would have a fundamental effect."


Read More: 'The sky might not be falling': Local media buyers bullish despite inflation, interest