TDR's U.S. Stock Market Preview For The Week Of October 31, 2022


A weekly stock market preview and the data that will impact the tape.
Sunday Evening Futures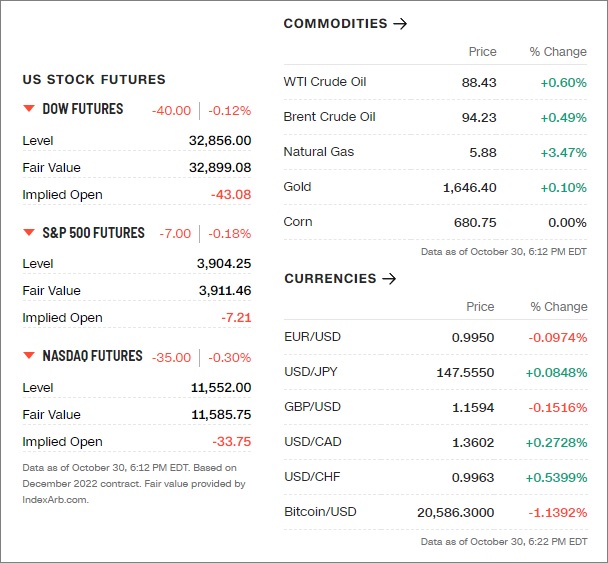 Weekend News And Developments
Apple's next group of Macs probably won't launch until early next year, which means it will have fewer new devices to sell in the holiday quarter.
Big Tech companies lost more than $255 billion in market capitalization in the past week, lead by the FAANGs minus Apple, which bucked the post-earnings carnage.
Bitcoin's break above $20,000 has investors wondering if the crypto bottom is finally in.
Black Adam, the Dwayne Johnson-fronted DC superhero film, kept its hold on the No. 1 spot at the North American box office in its second weekend in theaters. This brings its domestic total to $111.1 million, according to studio estimates Sunday.
Britain's economy is shuddering to a halt under the weight of the biggest increases in borrowing costs in more than three decades, with concern mounting that rates are headed higher still.
Cathay Pacific Airways will resume using Russian airspace on some flights, the Hong Kong-based airline said on Sunday, restarting flights it had stopped after Moscow invaded Ukraine in February.
China's central bank will step up credit support for the real economy while keeping the yuan basically steady, Governor Yi Gang said in comments published on Sunday, reaffirming the bank's existing policy objectives.
Diesel prices are surging with supply at a level not seen since the 1950s and a ban on Russian refined products will lead to greater competition for the fuel.
Dogecoin surged more than 70% on Saturday, extending this week's gains after Elon Musk sealed a $44-billion deal to take over Twitter last week.




Read More: TDR's U.S. Stock Market Preview For The Week Of October 31, 2022